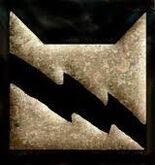 Description
Edit
ThunderClan is a mainly peaceful Clan, respectful of the other Clans as well. In battle, ThunderClan is fierce, courageous, and loyal. They normally take in loners and kittypets into their Clan to either swell their ranks or because the cat is in need of help or shelter. For this, they are at times looked down upon by other Clans and thought of as weak. The Clan's main prey are mice, voles, squirrels, and the occasional rabbit, as well as birds such as starlings, magpies, wood pigeons, blackbirds, and thrushes. They have excellent stalking techniques, creeping across the forest floor. They have the sense to keep upwind of their prey in the thick bushes.
Open
Open
Medicine Cat
Edit
Open
No Warriors Currently
Apprentices
Edit
No Apprentices Currently
No Queens Currently
No Kits Currently
No Elders Currently
Former Members of Thunderclan
Edit
No Cats have left Thunderclan
Cats of Thunderclan can stalk prey well
Cats of Thunderclan can always see the good of things,and are very optimistic
Cats of Thunderclan can blend in well with the undergrownth
Ad blocker interference detected!
Wikia is a free-to-use site that makes money from advertising. We have a modified experience for viewers using ad blockers

Wikia is not accessible if you've made further modifications. Remove the custom ad blocker rule(s) and the page will load as expected.